What the firk is a firkin you ask?  
firkin

Function:
noun

Etymology:
14th century Middle English

1: a small wooden vessel or cask
2: any of various British units of capacity usually equal to 1/4 barrel
I should really attend more beer tastings/festivals.  I intend to, and I've been talking about it for long enough.  Yesterday's Firkin Fest will most certainly help jump start that resolution.  What a firkin awesome event (sorry, could NOT resist that…).
My roommate Sasha and I got there around 5pm and started making our rounds of the many, many different beers there from all over the country.  I think I heard/read that over 30 breweries represented.  
I tried to make a point to hit up as many local ones as I could and was REALLY excited when I saw that Lift Bridge Brewery (Stillwater, MN) had a spot.  If you'll recall, I tried their Biscotti at the Blue Door Pub when I sampled the BDP's Lucy incarnation and just fell in love.  More on the LBB later.
Now, as I've said before – I am not a beer connoisseur by any means, but I do love me some good brews and prefer a flavorful, unique imbibe over a Coors Light any day (except softball game days when I want my beer light, COLD, and plentiful and then I say BRING ON THE COORS).  I did jot down some thoughts, but after tasting the first 5-10-15… well, I stopped taking notes and started truly partying.
I don't think I met a single beer I just straight up didn't like.  New Belgium's wood-aged La Folie Love (Ft. Collins, CO) and Sprecher's Generation Porter (Glendale, WI) were the most unique and therefore the most memorable.  The La Folie was tart and REALLY made you pucker (go figure; their website discusses hints of sour apple in the flavor).  The Porter had a beautiful finish that tasted like raspberries.  SO very cool.
Back to Lift Bridge.  They showed off their Kimono Girl Saison, which is apparently a spin on their flagship Farm Girl, but I didn't know that until just now when I read Heavy Table's [very cool] write up of the event.  I loved the Kimono Girl, and other people must've agreed because this one won the Crowd Favorite.  Congrats!  The brew guys were super nice and let me come around their side of the casks to get a picture with me: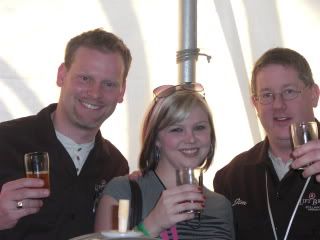 Evan joined us after a short while and within a few hours, the three of us were happily hopped up (oh, I'm just so punny today aren't I?) on brews from all over the country.  Here are some more pictures that support Ben Franklin's statement about beer being proof that God loves us and wants us to be happy: 
I wish I were cool enough to remember what beer I was drinking so I could tell you how much I loved it, but… I don't.
All in all?  FANFREAKINGTASTIC day, and I am now making it my personal mission to tour any and all breweries within a day trip radius before the end of 2009 and at least two more Fests of sorts this summer.  
Firkin Fest – WIN.